Previously posted at Sawa Gothly … A Virtual Life.
I survived it!
Well, to enter the sim itself was the real huge challenge. After four hours of trying to enter this sim, it was finally done.
Me was allowed to "gamble" and I even had some luck and collected a bunch of rare things.
… and then I had the luck that these items could be combined into a cool skater-outfit.
***items from Arcade are marked bold***
The Arcade is worth a visit, you shouldn't miss it <3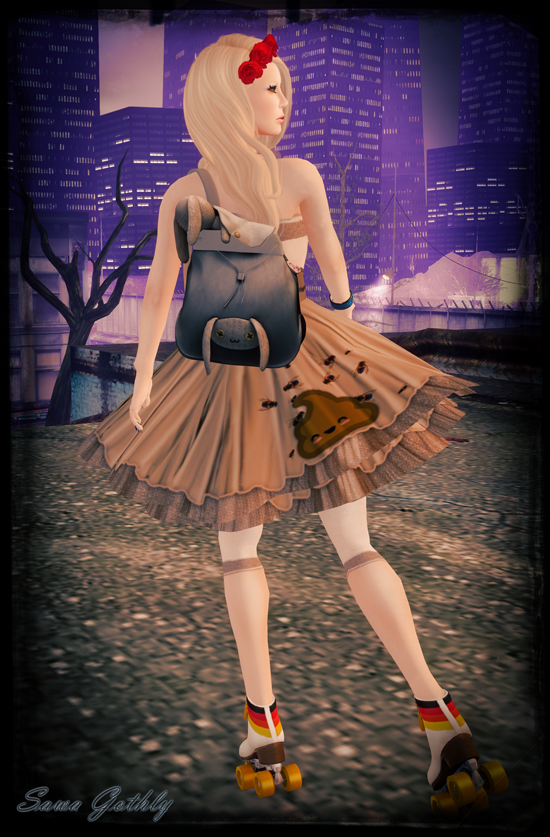 Body:
Hair: "Video Games LightBlonde" Truth **RARE item**
Skin: "Luria Skin 13″ Glam Affair **RARE item**
Outfit:
Body: "Brigitte Body Tights White" LeeZu
Skirt: "Lorette Skirt Happy Poo" The Sea Hole
Skates: "Vintage Roller Skates Disco White" The Secret Store **RARE item**
Accessoires:
Nails: "Starry Night" NO Nail Art
Bangle: "Logo Bangle Princess" FANATIK
Necklace: "Wild Honey Bee Pearl White" Maxi Gossamer
Bag: "Backpack White" Tableau Vivant **RARE item**
Poses from Focus Poses
Visit http://sawagothly.de/archive/12851 for original post date.