Previously posted by The Blogging Elf at The Blogging Elf.
Hey peeps,
it's me again and I am super, super tired.❤ Just packed everything for our skiing vacations in Austria and the car is soooo cramped.😀 We're finally done now (really, spending your whole 'Heiligabend' packing ain't fun at all!) and I wanted to blog this picture still, even thought I feel like I am about to fall asleep. I'll return on January 3rd, so I wish all of you Merry X-Mas and a Happy New Year in advance!❤
But on to more important matters: What is my avi wearing today?
The tunic!
This tunic by Moon Elixir (ElixirBlack Resident/MoonCelestia Resident) is currently available at WE❤ RP for the tiny price of only 249 Lindens/colour. The tunic is called 'Lupa' and comes in 6 awesome colours. The hood is detachable and can be worn on its own, you can tint the belt via a HUD. The hood, do I have to mention it again? it fits over my hairs!!! That alone is reason enough to buy this!😛 The texture is very, very pretty and imho the tunic fits easily over various pants, skirts and other items, making it pretty awesome for easy mixing and matching. The only thing that makes me a wee bit grumpy about this tunic? It only comes in one size, fitted for the Maitreya Body. But damnit, it is pretty and I wear it anyways because I like it a lot!😛
Hair: Tableau Vivant, Fanny II, blondes (M4ri1yn Magic, @ Collabor88!!)
Skin: Deetalez, Elf, cold/nordic (Steffi Villota)
Freckles: Glam Affair, Leah Freckles, A (Aida Ewing)
Tattoo: Kokolores, Little Face Tat, 01 (Sisch Firecaster)
Ears: The Skinnery, Elongated Puki Ears (Umazuma Metaluna)
Eyes: Buzzeri, Serenity Eyes, poison (Eleri Catlyn)
Tunic: Moon Elixir, Lupa Tunic, rust (ElxirBlack Resident/MoonCelestia Resident, @ WE❤ RP!!)
Top: Spirit Store, Tyra Top, ginger (Spirit Osmus, @ Kustom9!!)
Sleeves: PFC, Astrid Outfit (Pucca Firecaster)
Skirt: Reverie, MaryChain Kilt, olive (Paolla Flux, @ Kustom9!!)
Boots: Velvet Whip, Rider High Boots, brown (Reeva Hax, Slink Fit!)
Necklace: Yummy, Ancient Amulet Necklace, gold (Polyester Partridge, @ WE❤ RP!!)
Ring 1: Lode, Bitter Berries, blue (Chirzaka Vlodovic, Gacha!!)
Ring 2: ieQED, Persephone Rings (Sigifaust Resident)
Bracelets: Eudora 3D, Eos Set (Eudora 3D Resident, @ WE❤ RP!!)
Lute: Dark Forge, Lute, female version (Belford Elman)
Pose: Del May, customized pose (Del May)

Decorational Items/Animals:
Owl (brown): Half Deer, Great Horned Owl, brown (Halogen Magic)
Owl (white): Beetlebones, Arctic Friends, snow owl/rare (Suetabulous Yootz, Gacha!!)
Foxes: Jian, Red Fox Family (Kalia Firelyte/Ashur Constatine, @ WE❤ RP!!)
Wolf: Alchemy, Fenris the Great Wolf, red (Nina Helix)
Location: The Shire (Residential Community), The Shire
1,000,000 hits! Yay! Thank you, readers, for coming back!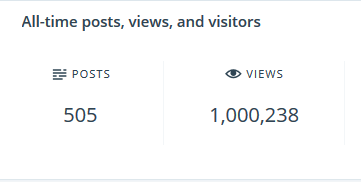 I also wanted to say THANK YOU to all my readers who keep coming back again and again to read the random stuff I write. The Blogging Elf breached the 1,000,000 hits today and I am both proud and very happy to see that people still enjoy reading here, despite me being very slow lately. Thank you, thank you, thank you!❤
Filed under: Awesome Sims, Fashion for Role-Play, Free and Cheap Stuff, Gor, Medieval Fantasy, Medieval Non-Fantasy, Reviews, We Love RP Tagged: accessories, alchemy, appearance, Arica, avatar, beetlebones, blog, buzzeri, clothing, Collabor88, dark forge, deetalez, del may, eudora 3d, Event, fashion, Glam Affair, half deer, hits, ieqed, jian, kokolores, kustom9, lode, mesh, moon elixir, pfc, reverie, secondlife, skin, Spirit Store, tableau vivant, The blogging Elf, the shire, the skinnery, velvet whip, we heart rp, we love role-play, we love roleplay, we love rp, whrp, wlrp, yummy
Visit https://thebloggingelf.com/2015/12/25/a-winters-song-and-merry-x-mas/ for original post date.